A skeleton considered 4,000 years of age has been uncovered by developers working at a lodging in provincial Northumberland.
Work to change over a previous stable square at the Tankerville Arms in Wooler was ended when a Bronze Age stone internment chamber – or cist – was found.
Archeologists are attempting to discover the sex of the single skeleton and whether some other remains are close-by.
Evaluations recommend the cist dates from some time somewhere in the range of 2,200BC and 1,750BC.
An archeological group from Northumberland County Council has been brought in and police have been educated.
Nearby excavator Roger Miket, who helped with the underlying exhuming, stated: "Around four days prior in an advancement at the Tankerville lodging, they were placing channels in when a digger hit the section of a stone made casket called a cist from the early Bronze Age.
"In moving the piece back one could see the empty underneath in which an internment had been put.
"The cist is framed of four upstanding stones with the spread section on top."
Mr Miket included that a "little, wonderfully designed stone blade" was found by the legs of the skeleton.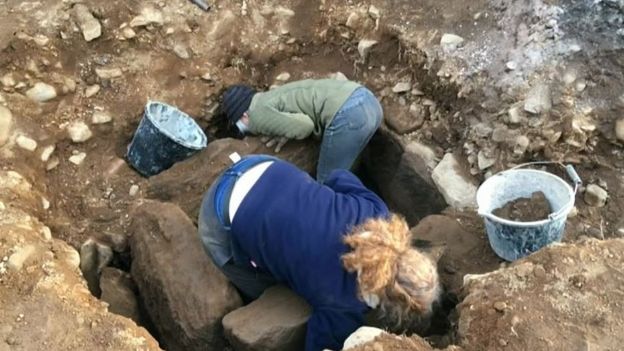 "It would have been a valuable thing at the season of the internment and was incorporated into the grave for use in existence in the wake of death," he said.
A representative for the inn portrayed the find as "energizing" and said staff were working with specialists from board.
The inn was worked in the mid-1700s by the then Earl of Tankerville for use by chasing parties.